WEST BENGAL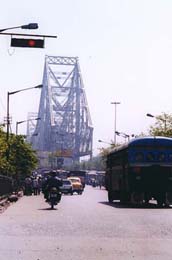 The moment you come out of the Kolkotta railway station the first thing that catches your sight is the Howrah Bridge, you can't help but stand and admire it. Kolkotta is a very busy place with lot of Bihari's from the neighboring state, but it has got it's heart in the right place.

How often does a traffic cop stop you to let a tram pass on Indian roads? The Trams are old and in bad condition, but they remind you of their glorious past.

Art is a way of life here, old buildings are well preserved, details are not ignored and that makes the city special and unique.

Language changes in each state of India, and Kolkotta is no different, Bengali is spoken fast and furiously. Small restaurants are called cabins and crossroads with a circle in center are called island, a term that confused me navigating through the city for the first day.

From Kolkotta we were riding up north to Guwahati, parallel to the Bangladesh Border.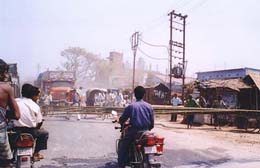 The highway is narrow, mad traffic and maniac drivers but West Bengal is very beautiful, it's GREEN, it almost felt like riding in Kerala (Southern state of India, also known as God's own Country)

West Bengal has to be called "Bicycle Land" millions of cycles everywhere, even on the freaking highway.

That answered my question as to why Rani Mukheerji (Film Actress originating from WB) was in a commercial for bicycles :o)

The ride is monotonous till Siliguri (600 Kms.), from here onwards Thick Forest, Steep Ghats, Tea estates and Lush green rice fields make the ride more enjoyable.

On my way to Guwahati, we saw the signboard for Buxa Tiger Reserve, since wandering and surprising oneself was the idea behind the ride, we took the turn and at the Nature Interpretation center in the sanctuary, forest department had many animals in the rescue area apart from bears and panthers.

Curious to see Royal Bengal Tiger in his natural habitat, we changed plans and rode to Alipurduar. One has to take permission from the Deputy Field Director at Alipurduar to enter the National Park. We got lucky! Not only did we get the permission to visit the park, but the officer also booked a suite in the VIP forest guest house which was 16 Kms. inside the forest and with that special permission we wouldn't have to hire a jeep but could move around on the bike.

God is kind to bikers after all :)

We checked in a shady hotel by the name Moon Light and the moment we started to unpack earthquake rocked the place, cheap cots were shaking like mad. After seconds of panic, everything was back to normal.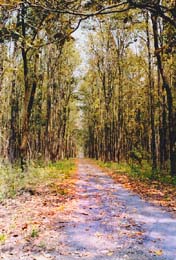 Early morning next day we reached the forest check-post at the national park. The guard at the check post responded to our excitement with and smile, and than came a warning, "make sure you look left and right while riding, elephants kill more than 100 humans here every year." After that, there was only one man smiling, no points for guessing who? The idea didn't sound as bright as it did the other day, but heck we were riding on the forest road barely five feet in width, thick forest on both sides with thicker undergrowth, hoping not to be greeted by a smiling or a grumpy elephant.

Slowly the sounds of traffic gave way to birds, insects and animal sounds.

Luckily no elephants wanted to say hi to us and we reached Jainti Guest House.

Jainti is a small village inside the park. It wasn't as secluded as I thought it would be. There is a bus service to the village for the locals in the morning and evening.

The guesthouse on the banks of dry Jainti River is luxurious and peaceful.

After unpacking we went for a five Km. uphill trek to a place called PUKRI MAI. Pukhri means pond on the hill and Mai means mother.

Pukhrimai is a natural pond on a hilltop, the water doesn't dry up throughout the year, and it is a holy site for Hindus and Buddhist.

It is one of the recongnised trekking routes in the National Park otherwise entering or going on foot is prohibited in all National Parks in India.

The lake is small and the water is muddy, elephants visit here frequently for baths, hundreds of fish in the pond can be hand feed, since the lake is considered holy, no one dares to fish here.

Evenings were best spent at the small village maidan under a huge banyan tree chatting with locals and sipping on whiskey from Bhutan. The Whiskey costs 90 bucks for a bottle, and has a picture of a snow capped peak on the label and is surprisingly named Black Mountain :o)

In Jainti, Bhutanese currency is also valid, so if the shopkeeper doesn't have 50 Indian he will give you 50 Bhutanese, well that can give you a chance to brag about your visit to Bhutan too ;)

Inquiring more about the place got to know of Buxa Fort on the other side of the park, and that too was a recognised trek.

Early next day in light drizzle, started the ride to Buxa Fort. You have to ride six Kms. in the forest to the next forest check post and trek five Kms. from there to the fort.

The trek is steep, it is impossible to ride the bike on the track, and that's what makes one wonder that how horse carriages used to ply on this roads decades ago. Locals say that at one point Netaji Subhash Chandra Bose was jailed here so that made the trek more interesting.

A small village appears on the hilltop and from there it is downhill trek for the fort, till the village the path was clear, only one track to follow, but after the village there were too many of them. We took the one we thought would go to the fort, as there was nobody we could ask the way. The path led us to the stream instead. Anyways, sat down the stream and abandoned the search for the fort.

Another round of Black Mountain with the locals and next day early in the morning on another trek saw barking dears and spotted dears.

Buxa Tiger Reserve is a great place for nature lovers; don't miss Buxa Tiger Reserve when you visit this part of India, though animals and snakes here are camera shy.

Having spent a relaxed time with nature we were again on the highway to Assam.




^Top