ASSAM

Venturing into Assam in the night is not advisable; we stayed 6 Kms. from Assam border to start early next day and cover 300 Kms. for Guwahati.

Entering Assam was exciting, always wanted to ride here and finally here I was, but no big signs to welcome you, just a simple check post.

Soon the military and police frisked us and the luggage on the bike, the only other time I remember checking this strict was before entering Kashmir through Jawahar tunnel or through Sonmarg.

The roads in West Bengal were not that great but as soon as we entered Assam, roads turn from good to bad to worse, roads in Assam are in pathetic condition. They defy the logic of why a road is built in the first place!

The 300 Kms. ride took eight hours, in the process, bike was screaming and squeaking for mercy.

But ignoring the roads, the ride was fantastic; Assam is GREEN, full of life with curious and friendly people.

Not to many Dhaba's (Food Joints) around here, but whatever small tea stalls are there, owners will go out of their way to cook dal, eggs and roti for you.

Before you enter Guwahati, the Mighty Brahmaputra makes it's presence felt, it is as big as rivers can get. First impression of Guwahati was dust and pollution, one wonders from where all these dust has come, the surroundings are nothing but green.

Later Atanu, a 60kph'it from Assam told me the dust in Guwahati is primarily from the dried up riverbed of the Brahmaputra River. Dry riverbeds are called as "bali chars" and small riverine islands as "chaporis".

Crossroads are called "Charali", ali means road and char means four. Guwahati is the gateway to the northeastern region of India and is the economical capital for the whole of the seven northeastern states so it's a very busy place but it is quite pleasant in the evening if you go on a ferry ride on the Brahmaputra, or have dinner on the houseboat, where you can get roasted pigeon.


Kaziranga National Park:

If someone asks me to name the 10 best roads in India to ride on with a fantastic view, than the road from Tinsukia to Kaziranga National park (270 Kms) will be on that list.

The road goes through green rice fields, tea estates and forest. The road gives the ultimate riding pleasure, and I was more than happy because I had entered Assam from Arunachal Pradesh expecting bad roads.

Kaziranga National Park, also a World heritage site lies on this highway.

To enter the forest, one has to take permits the previous evening which are available at the Park office. You can either go on an elephant or in a jeep, both the routes are different, jeep safari covers a larger periphery.

The lure of seeing the Rhino in it's natural habitat meant 4.30 a.m. wake up call and a rough ride through the forest dirt tracks to the forest check post.

Entry to the national park is on the other side of the highway where all the hotels and guesthouses are.

A few minutes wait and a herd of elephants appeared on which camera equipped tourist were to have a field day clicking Rhino's and whatever came their way.

The elephant trail is first to the plains of the park and than through the 12 feet high elephant grass to another check post where the trek ends.

After just 10 minute of elephant ride and hog dears were spotted in the plains.

A few minutes later we saw a huge rock, which decided to move all of a sudden, "Hey RHINO!" Is the scream, which comes out instinctively. The animal was six to eight feet in length must be weighing more than a ton.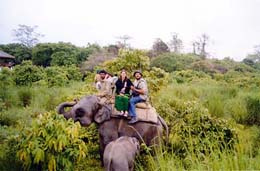 Even on an elephant back, you can't help but experience fear by the sheer size of these animals, they move gracefully avoiding the tourist on elephant backs.

Scarier is when a Rhino decides to "booh" the elephant from the 12 feet high elephant grass when tourist request for a more close up view. It isn't a pleasant sight seeing an Elephant running for his dear life with you and Rhino on it's back.

We were lucky enough to sight three Rhino's in a span of one hour, and that's not rare. Kaziranga doesn't disappoint anybody; abundance of animals and proper administration has made it the most famous national park in India.

Rhino is the state animal of Assam, in a way Rhino is a matter of pride and alter ego for Assamese, so much so that the state run petroleum company Assam Oil has Rhino as it's mascot.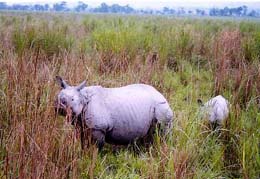 A visit to Assam is incomplete without Kaziranga on the itinerary. The park is a must.
And if you are visiting the park on an elephant don't forget to ask him, "What's his top speed?"

Other places worth visiting in Assam are Majuli Islands, the island is the world's largest river based island and Haflong, a hill town known for it's natural beauty, sadly we couldn't visit Haflong as we were struck in a curfew for three days at Umrangsoo due to communal violence.

In short Assam has it all, bad to breathtaking roads, friendly to communal people, forest to tea estates, no food to roasted pigeon, and Rhino's who like to drag race with Elephants.





^Top