Frozen to Life

My first journey to Ladakh – The Land of Passes – got to be on a motorcycle, I thought, while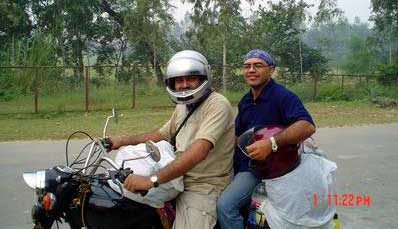 purchasing my first vehicle, 350cc Royal Enfield Bullet motorcycle. Six years later, musing upon my trip, I now think, all my journeys to Ladakh should have something of a motorcycle about them.

It all started with a few not-so-distant but hair-raising rides to hills and I was hooked. I joined a very lively community of mobike travelers called '60kph'. Motorcycling gradually turned into a passion and now co-exists & mixes well with traveling. I think it rouses a rebel within, a rebel against conventions, to experiment the 'new' in 'new circumstances'; redefining safety and challenging the risks. Risk factor adds the thrill and we, seated on our trusted steeds, forget the mundanity of our lives. When the wind lashes the helmet and jacket, and the bike's muffler makes an insufficient attempt to lessen the rumble, I get a kick. Every biker, I am sure, will identify with these words.

If motorcycle has come, mountains won't be far. M & M, I mean Motorcycles and Mountains have an eternal love affair and those who have ridden on mountains will vouch for it. And how about riding in the mountainous terrain which is actually a high-altitude cold desert? Riding to Ladakh –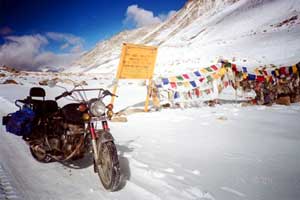 A land sui generis - is a dream of every biker, with wind piercing the body, bones catching the cold and you…..Well! You making merry. My friend and senior Manish Rajpal, not essentially a biking but a traveling enthusiast, and I together vowed this dream to us. And Yes! We rode down to Ladakh. Our trip was packed with adventure, excitement, learning, happiness and also a mishap. As I try to take you along on our roller-coaster ride, let your imagination soar while you read on........
Initially, I failed to understand why people would choose to settle down in Ladakh - A land that is arid, barren and harsh. A land which is parched but bitterly cold for most of the year, where scorching sun gives sunburn, piled snow gives snow-bite and piercing wind gives aching throat and sneezing nose, all (even) at the same time. But we could gather from this ride that Ladakh is a wonderland that inspires awe and delight at the same time; a land of mythical beauty; a land where vividly colored mountains and mighty snow-clad peaks are crisscrossed by gurgling streams originating from shimmering glaciers; a land which is chiseled to form the quasi-lunar landscape. Ladakh has been inhabited by one of the friendliest people in the world. Living with the scarce resources in an inhospitable region, they never failed to astonish us with their ineffable hospitality. The gleeful older with their wizened Mongolian faces and the rosy-cheeked kids donning contagious smile made us forget our body aches from riding on the treacherous terrain of Ladakh. Exquisitely lovely and relatively unspoilt, Ladakh beckons the looking-for-new-horizons traveler. The rich and unique culture of this predominantly Buddhist land is as ancient as our civilization. The white façade of a 'Gompa' standing on top of a lonely hill, with multi-colored but faded prayer flags fluttering in the breeze, and old prayer wheels humming as they turn, are irresistible invitations. As a matter of fact, monasteries are one of the most visible features of the rich heritage of Ladakh. They are scattered across Ladakh, and apart from being fully functiona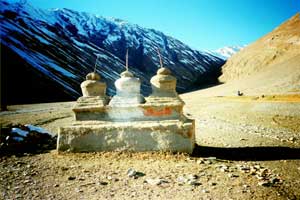 l centers of learning and teaching Buddhism they tend to mesmerize every visitor with their strange otherworld ambience. Not less enticing is the gushing, rapid-strewn Indus River flowing across Ladakh from east to west and is vigoured by its right- and left-hand tributaries. Bound by two of world's mightiest mountain ranges, Karakoram in the north and the Great Himalaya in south, Ladakh lies athwart Zanskar (west) and Ladakh (east) ranges, which run parallel to each other and from south-east to north-west direction. With Great Himalaya range acting as a barrier for monsoon clouds, Ladakh is largely a rain-shadow area, though, rain-bearing clouds do sneak in, but only occasionally. We stood in awe, fascinated with myriad colors of mountains that soared into an azure sky that was startlingly intense in its 'Blue'. Road journey benefited us to understand what is meant by negotiating a snow-bound high-altitude mountain pass. Barren rocks on the mountainsides, raging torrents down below, and perilous, snow-littered mountain paths excite us all the more now. There has been no dearth of the sobriquets to Ladakh: Unbelievable, Unparalleled, Moonland, Little Tibet, Ladwags – land below the mountain passes, Bladwags – land of the lama, Maryul – the red country. They all describe it but not adequately, and no length of description quite prepares the traveler for the ethereal yet spectacular experience that is – THE LADAKH.
The Start
We got up early on a misty morning of October 2, 2004. Final packing & loading the stuff was done in a jiffy and we kick-started the boisterous beast. The clock ticked 6:15 am and off we were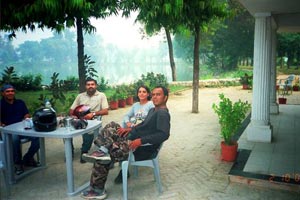 on our dream-come-true biking sojourn to the remote lands of Ladakh. Sanjay and his wife joined us near Karnal by-pass. They were on a weekend trip to Jalori Pass and Shoja village. First Hiccup landed much sooner than we expected. We were greeted with not-so-mild showers near Sonepat. It was here when I realized that it's going to be tough and fun. We were minus our raincoats, which were lying at our beds back at home. Not much later we found ourselves stranded at Karnal, our slated halt for Breakfast, with a 'stretched accelerator wire'. Worry tried hard to creep in but I kept warding it off. We got the wire fixed with the generous help of two students, had brunch and rode non-stop till before Zirakpur where Sanjay turned towards Shimla and we kept our pace towards Manali, via Chandigarh, Rupnagar and Kiratpur Sahib.
After Bilaspur our pace was killed by heavy rains lashing the whole Manali regions since previous night. I could hardly ride as rain drops and wind were unsustainably painful. We waited at a dhaba for the rain to stop for no avail. Then we rode 45 odd kilometers further and reached Sundernagar, where we had to call it a day. Nothing to rave about, Sundernagar is a normal hill township. 'Relax' Inn on the main road is nice for one-night (emergency/forced) halts. Man! Wet we were…..drenched to the soul! Thankfully we had tarpaulin sheets which saved our luggage. With that kind of rain continuing, we stood bleak chances of reaching Manali which in turn meant no Manali – Leh ride. We exchanged few messages, had pep-up talk with Vivek, had dinner and dozed off.