UTTARANCHAL
One of India's most scenic and colourful states, Uttaranchal is a traveler's paradise of treks, hikes and countless roads less traveled by. Utterly Uttaranchal was 60kph's 12 day, 7 bikes, 8 travelers ride through almost all of this lovely mountain-girdled state. The ride was in association with the Indian Army which serves the nation in this region, specifically Garhwal Scouts, 6 Garhwal Rifles, Kumaon Regiment Centre, Kumaon Scouts and 9 Kumaon and undertaken with the overall theme of promoting tourism in Uttaranchal.

Srinivas Konidena, a 60kpher from Hyderabad gives you a first-hand account of the ride. Join him in crunching through the snows and drinking in the mountainous panoramas and may the pine-scented air revive your wanderlust.

With lot of excitement and some skepticism (this was my first group ride), I set out for 12 days of riding through Uttaranchal in the first week of March. The ride started and ended in Delhi and our route covered Dehra Dun, Mussoorie, Badkot, Gangotri, Rudraprayag, Kedarnath, Joshimath, Badrinath, Kausani, Munsyari and Bheemtal. Other than me, there were Histasp, Naazneen (Histu's wife) and Nicky from Mumbai, Kannan from Trivandrum, Jay Jadeja from Ahmedabad and Vaibhav and Salman from Delhi.

This was my first ride in the "real" mountains and that too it coincidentally happened at a time when many roads were just being opened. The ride was through some really amazing roads and we had newer vistas to view with ever turn in the road. Each day was a different experience in itself, treating us to a different pleasure. While from Barkot to Gangotri we rode along the Bhagirathi river in breezy conditions at Harsil we faced really cold temperatures. A landslide in the night threatened to stop our journey to Munsyari but we managed to get over it to have a closer glimpse of the Himalayas. Gaurikund (last motorable place to Kedarnath) gave us an insight about how man messes up with the beauty of nature while the ride to Mana (from Badrinath) helped us see arguably (some say it is Khibber) the highest inhabited village in India.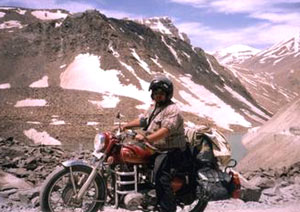 Vivek, V2 and Gaurav were instrumental in planning for this ride. This was more critical as the riders got the privilege of getting the Army's patronage. The route was planned with very enthusiastic support from Gen. Joseph (Darryl's father,) and details of the trip were finalized after a lot of behind the scenes phone calls, e-mails, etc.




Write-up edited by Anand