GOA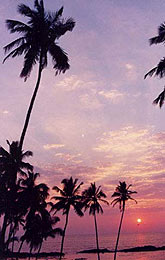 The good, bad and the indifferent in Goa!

Goa, as a tourist destination, especially to a first-time visitor, can be a daunting place. Here are an insider's tips and tricks to savour the best Goa has to offer. And to avoid what is best left alone.

I've spent some time in North Goa with Mapusa (Bardez) as my base, which is 13 kms from Panjim, the capital. Here are some places to check out and some places you shouldn't bother with.

Querim, Arambol, Dunas, Asvem, Mandrem and Morjim beaches are along one stretch, a few kms away from each other. This is the beginning of the 106-km coastline of Goa.

Querim Beach -- northernmost beach in Goa, about 28 kms from Mapusa. The beach is rather steep and not very safe for swimming. That's probably the reason why there are just a handful of people on the beach. About 10 kms north of this beach is Tiracol fort. The ride there is lovely -- narrow winding roads over hills.

Arambol Beach -- Safe to go for swimming, with an average number of tourists here. A 15-minute trek around the hill takes you to a fresh water lake fed by springs. This place is very calm and peaceful and worth a visit. Half a kilometre away from the beach is Sanjay restaurant where you can get a delicious fish thali for Rs. 25. (Phone: 297679)

Dunas Beach -- So called because of little sand dunes all over the beach. Lots of tourists here as well as on Asvem, Mandrem and Morjim. As they are all along one stretch, you can just ride past all these beaches.

A river separates the above beaches from the next set.


Vagator Beach -- Don't bother with this one but you can visit Small Vagator (or Little Vagator) which is about 3 kms away from the main beach if you are interested in Rave parties. A place called Hill Top has parties every weekend which starts about 2 a.m. on Sunday mornings, continues through the day and winds up about 10 p.m. on Sunday night. The locals selling food sit around in a circle. The sad part here is that they bring their kids along and these kids are exposed to drugs and a wild lifestyle from an early age.
The Little Vagator beach is pretty secluded, you have to go down a hill to get there. There's a carving of Lord Shiva on the rocks here.

Anjuna Beach -- The flea market is held here every Wednesday. I've been visiting Goa for over 25 years now and I've seen this market grow from just a handful of hippies sitting around selling their personal stuff cheap to get money for drugs to a few hundred stalls. The stalls are mostly run by Indians from various parts of the country and only about 10 per cent are foreigners, selling almost anything and offering other services such as hair coloring, hair braids and dreadlocks, tattoos and body piercing. There are lots of cars and modified bullets here for sale. There's a German guy called Heinz who makes cool leather accessories, especially for bullets.
Late in the evenings there are music session with several musicians playing live in one of the shacks.

Baga, Calungute, Candolim and Aquada Beach -- These were once secluded and beautiful but now tourism has ruined these places. Go to these places only if you want to check out the tourist scene. Baga is a reasonably safe beach for swimming.

A few kilometres from Aguada is the lighthouse, the church and the prison. It's a nice ride up to the lighthouse but, unfortunately, you'll see a number of tourists. The lighthouse is open to visitors for a few hours from the afternoon to about 5 p.m., and it's worth visiting. This place is beautiful in the night when there's no one around.

On Saturday nights, there's Mackie's night market and Ingo's night market, both at Arpora, about 8 kms from Mapusa. Mackie's is run by Indians and has the same stalls as the flea market. The difference being that there's live music, entertainment shows, dancing, food and booze. There are two stages, one for western music performances and the other for traditional Goan folk music and dancing. Ingo's night market is organsied by forigners settled in Goa. It's similar to Mackie's but you'll see more foreigners here. You'll find Heinz at this market as well.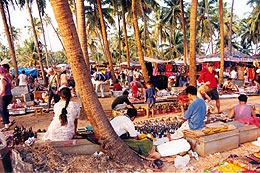 At the Mapusa friday market, you can buy dried fish and spices and also some very nice antiques.

Coco beach -- about 15 kms from Mapusa towards Panjim. This is actually a cove dotted with shells and perfect for people like me who can't swim. There are no waves, just gentle ripples. 100 metres into the sea and you're only waist deep. My husband calls this a bathtub :) Public transport doesn't go there, which explains the bearable number of tourists on the beach. There are no signboards, so you have to ask people how to get there. A mud road leads to the beach, which gets narrower until it's only a pathway. Albert's Odyssey is an old Portuguese house converted to a guest house. The room rates are reasonable but the food is expensive. They also conduct dolphin tours. (Ph. 0823-2401518.)

Old Goa, about 25 kms south of Mapusa, is known for the Basilica of Bom Jesu which houses the remains of St. Francis Xavier who died a few hundred years ago. His body has not decomposed, only shrunk in size. The ride there is along the Mandovi River, which was once beautiful but rather dissapointing now with the traffic.
Half a km away from the church is Santa Monica which consists of the Museum of Christian Art, a chappel and the nunnery. The museum of Christian Art has got fabulous stuff dating back a
couple of centuries. However, don't go unless you're really interested. Photography is not allowed here. Opposite the museum is the ruin of St. Augustine church, which was built in 1604.

A short ferry ride from Old Goa takes you to a quaint little island called Divar. Must go there as this place is almost untouched by tourists. Just ride around the island, lots of narrow winding roads over steep hills and along the river. You'll see the typical Goan bungalows here with a few steps leading to a verandah and the front door. The Goans sit out in the evenings drinking feni and eating fried prawns.

Beaches south of the airport in Salcette (Bogmalo, Majorda, Colva, Benaulim) are not very interesting, Go there only in you have nothing better to do. However, I'm sure people from South Goa will disagree with me.

Miramar beach at Panjim and Dona Paula, seven kms away, are not worth visiting anymore.

Maria D'souza - Goan Supercop with her Enfield.
The Naval Aviation Museum (the only one in India) at Dabolim, a few kms from the airport and close to Bogmalo beach, is definitely worth visiting. You'll see the Lockheed L-1049 ( American), Westland Sea King (British), Vampire (German), Seahawk (British twin engine amphibian) and Hughes helicopter. All these aircrafts were phased out in the 1960s and 70s. There's also a display of ammunition and various equipment.

Rachol Seminary, 50 kms north of Mapusa, is a fort built in the 16th century which was converted to a seminary in mid 17th century. Visitors are allowed inside the chapel only. A few hundred meters away is the Rachol Church, the first in Salcette, built in 1596.
Most churches are open only during the services. If you want to go inside, all you have to do is walk around to the back and request the priest to open it for you. The gothic style church of Mae de Deus in Saligao is lovely in the night when the lights are on. Saligao is about 4 kms from Mapusa.

If you're going swimming, it's advisable to go before 11 a.m. The sun is bearable and there will be only a handful of people on the beach. The foreigners usually go after 11 a.m. because most of them want to get a tan.

Avoid the main roads and preferably take the longer way to any place you're going to. It's a lot more fun as you avoid the tourists and the traffic and go through villages and experience a more scenic ride.

Avoid eating at shacks and restaurants on the beach. Most are a complete rip-off and don't serve authentic Goan cuisine. Stick to smaller restaurants away from the beaches. Hotel Astoria at Assagoan, 5 kms from Mapusa, is one of the very few places that serve really good food. The prices are average here, about Rs. 50 per dish. They also distill their own palm feni, which is much better than what's available locally. (Ph. 91-832-262186, 251034.)

If you run out of petrol, just ask around. Most shops and even houses sell petrol in one-litre bottles for about Rs.40. The locals are very friendly and helpful.

There are some interesting temples east of Panjim but I have not been there. There is a crocodile tour from Dona Paula and a wild life sanctuary in south Goa.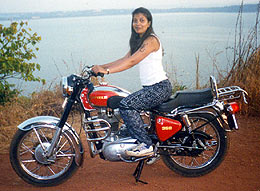 By Nicollita
Edited by - Subash


Also...
Goan X-perience - Write up by Sajid...(Read On)

Loss of Innocence - Write up by Gaurav...(Read On)