THE GOAN X-PERIENCE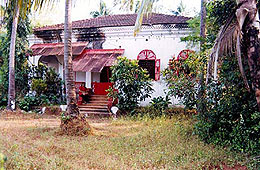 I have been 2 Goa quite a few times, but there's always lot more to see n do n drink n eat. Had no idea about Heinz, going to make it a point to meet him. Only heard of a Dr joe, who is supposed to be a bullet specialist.

Let me too add a little of my Goa X-perience

Firstly-the Goans are very very friendly and at the same time very possessive. Before looking at u they look at your car, bike Number plate and if they see the Maharastra chap, their attitude varies(if u r with a fly,no probs,but single---they look at u as a PROBABLE TROUBLEMAKER.) I quite identify with them and their behavior, as u see, up here we have quite a few jerks who think that Goa is all about cheap booze n lots of women, so there have been lots of instances where our dear friends have gone to Goa, had 2 much to drink and have made ASSES OF THEMSELVES, thus earning us a reputation n wrath.

Secondly- Goan directions--yippee ka yea, when the Goans say "here only" or "go straight" means u still got a good bloody few kms 2 go. They will say take a right, but, they will wave their left hand and give a left turn signal! And their straights are never straights!

Food------hell no, lets talk bout BOOZE first...... only one thing to say----BLOODY CHEAP AND IN ABUNDANCE.

NOW FOOD---great food, as Nicky said, avoid shacks 4 food (tuna sandwich, salads are ok at Bagga beach)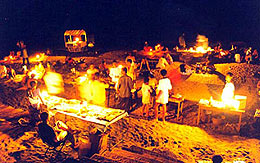 Brittos- (near Bagga)- super fish (platter n all) had the best roast beef here! Should try their SUNDAY DINNERS ALSO with yorkshire pudding n all VERY RESONABLE, good desserts 2.

Anthonys (next to brittos)----oldest shack there- GREAT FOOD -fried Bombay ducks, mackerels, crab, prawn gassi n all.

Souza lobo- (Calangute)- excellent food-- but unfortunately "BAD ATTITUDE". When u eat there, just b'4 closing time, u r served with a vengeance, and made aware of that too!! Closing time-u
walk! Period. Fish fillet stuffed with prawns-YUM!!WUZ A TREATPlantain leaf-----have to mention this-biggest udipi joint I've seen (calangute-next 2 d'funct petrol pump) dosas n all.

Fiesta-(bagga)- Italian joint-good food-run by a lady whose name is "yellow"

Titos, Mambo''s----Forget it! 2 commercial

Club cabanas----worth a shot---up in the hills--Wednesday night -ladies entry free-- (entrance
includes free drinks all night long)

Pappa gios-(near Mapusa)---- this wuz a place in the hills I visited a couple of years ago. Don't know whether its still functional or what. This guy -forgot his name now--specializes in wild meat. I've had venison, porcupine, frog legs here, he showed us bats but advised us against it as he said it wasn't too fresh..........AM SERIOUS!!!

Cocquiros ---(on Panjim road) ...place where charles sobhraj wuz caught! decent food.


Infantaria---(Calangute)---Great breakfast joint, avoid the buffet, go a la carte, superb deserts 2.

Pagoda n other Chinese joints---quite often always packed--foreigners basically---reason being they feel safer eating Chinese food than masala Indian stuff as they have very delicate stomachs.

Each place has its it's own X-perience, try new places n let us know the results

Let me also voice my "Air tale" I needed 2 fill air in my car tyres and fuel. Went to the Calangute pump only 2 b told that the pump is defunckt now (fuel is freely available in all the shops around the pump from where i bought bottles n bottles n tanked up).There wuz a tyrewala next 2 the pump, with a manual pressure gauge, as in, u put the gauge on the nozzle of the tube and the damn thing shoots up with the pressure, n u note the calibrated reading. Primitive n not trustworthy, as i found the car misbehaving, the next tyrewala i found............. was in Mapusa(9+kms away) Point 2 b noted-----open a tyrewala/air shop in Bagga (might do better than some of the restaurants) could go on n on about Goa--probably will, later--everybody has different X-periences bout this place, but feels at home, n wants 2 go back again, my advice would b to go there with no expectations or plans, go with the flow.....or do ur own thing, there always something new to b X-perienced.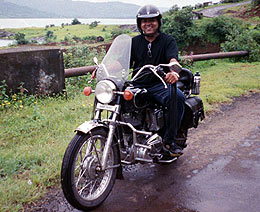 By Sajid
Edited by - Subash

Also...
Goa - Write up by Nicollita...(Read On)

Loss of Innocence - Write up by Gaurav...(Read On)