Day 1: Yana - The Lazy Charms of an Old Love
The first day towards Yana and away from Bangalore is a story of a longest riding day in history which included a ride, a rescue, a breakdown, a loss and a reunion with creativity thrown in as the nightcap! Didnt I say a ride was no longer enough ...it had to be a collaborative memorable drama :-)
Sanju, Biju, Sarath and me started on Jan 2, a chilly morning quite reminiscent of Kutch when two strangers made friends and started their first long ride. My visor reflected the sun rise and Sanju (the sweep). Cruising at 80 Kph, the only exception being Sarath who throttled to 100 Kph mark which did not attract more than a raised brow till he cooled off his heat.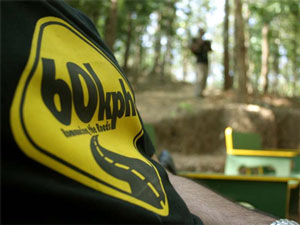 The Thunderbirds rode in a 3 some formation. Biju, the lead entered Tumkur town instead of the bypass despite our collective honk pollution. Blame it on his Goldie n my goldie mufflers! What goes UP (in the town) must come DOWN (out of town), so we took the bypass and waited for him at the town exit. Biju, a far more intelligent rider noticed his mistake and rode to us on the bypass towards us. Lovely Jani had SMSed his whereabouts by then and as usual news from Jani-e-mann had us in grins.
The landscape was changing...windmills indicating Chitradurga was close by were now in view. After Davengere, we drove past the Dhaba where we met the Aliens on our way to the Kutch ride. As I said before, a ride brings us face to face with us what has changed around us and within us. Around us the roads were in the same state as we had left them last year with deviations after every few kilometers but I was much more calmer inside but still feeling not so great. A stop at A1 plaza - the new shower and catch a nap concept - started by Reliance all over the country was a relief.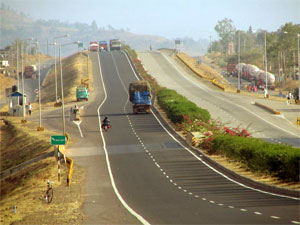 Sarath had reached somewhere near Hubli and Dipsy was already in Dharwad and waiting. We left in mid-sleep and this time I made sure that come what may we would take the Hubli-Dharwad bypass. Adrenaline was pumping up heavily and we climaxed shortly thereafter finding the hotel to be holed up for the night along with Dipsy. Riding past the onlookers we made the connection (nah..french was missing this time). He served us news with tea – An American couple riding from Karwar to Yana had met with an accident 30 Kms from Hubli and we were to rescue them. I was not ready for this part coz all I wanted was a hot shower n a bed but dare I refuse to use my local language knowledge and of course dare to negate the a good cause and the biking spirit. Besides who wanted the child to get wild !
Biju and me went in search towards Kalhati with 100kgs+ child riding pillion with me. The sun set behind his flowing locks. Pothole infested road had me in a temper. A policeman selling flag day stamps got a glare. The 22 kms stretch felt like an age had passed by. On reaching the NH63 highway we found that the couple were at Yellapur Government hospital...so another 30 kms ride ensued. Darkness crept in making me weary. I'm as blind as a bat at night and by some queer twist of fate I always end riding after dark.
The other choice was to let Dipsy to take my place. He wanted to as well but I nodded a no firmly - it was my first time in these surroundings which ran through forests on both the sides and I guess I want to take one risk at a time! Bless Biju who overtook me as if understanding that it would be easier for me to follow a captain. Not one to sit back and take no for an answer, Dipsy made a nuisance of himself with his night riding gyan from the backseat.
Just when I was reaching my tethers end and about to handover Titli to him to demonstrate what he was preaching, we spotted the Silver bike parked on the right side of the road. Biju missed it and was again deaf to my honks so I sped, caught him and we all turned to inspect the damages at the accident site with one exception. Fed up of Dipsy's backseat driving, I gave Titli up to the child's wild ways. His style of riding is very simple - open the throttle and charge down the road - exactly opposite to mine. But his style paid off, we reached the accident spot soon enough and one look at the mauled bike gave us the impression that Americans would be hurt. The handles were completely bent and resembled ape handle bars of Harleys. A passerby informed that foreigners escaped unhurt to which we phewed a sigh of relief and went hunting to rescue them towards Yellapur.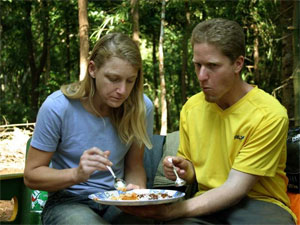 Yellapur is a peaceful small town. Sun down means time to go to bed and bedtime means lazy answers to hot queries about strangers and from strangers. Multiple local directions later we managed to reach the government hospital only to be told that they had checked into a hotel to stay for the night. They also told us few names of the probable hotel they might have checked in. This was getting to become a wild goose chase. Thankfully our hunt brought us to main market where we saw Alin standing with another guy whom we assumed was the American we were supposed to rescue. Intros later, Lovely Jani called from Dharwad base camp to take stock of the situation, informed that Bombay gang had reached Dharwad, Subash and Kanjilal from Chennai had also reached. We were to come back and join the party.
The silver bike was to be transported to Dharwad along with Americans (Brad n his wife Heather) in a pick-up vehicle at a negotiated rate of Rs 1100/-. I was to accompany both Brad and Heather who were still in a kind of shock with their luggage in the pick-up and leave Titli to Dipsy's mercy. Since all of us could not fit in the front, Brad volunteered to sit in the back. Bless him, I need to straighten my back after a non stop ride from Bangalore. Heather and I chatted amiably about the accident and about each others life and times till we reached back to the accident site to find only Alin n Biju standing there. Our expert night rider had charged down the road and over shot so everybody including the pickup waited for his return. Biju's had a an interesting tale to tell...his headlight had conked off and he was tailing Dipsy who was riding my Titli at 90+. Unlike a well lit Dipsy, Biju with no lights saw and stopped at the accident spot! A while later Dipsy was seen riding back to our collective glares. Biju's headlight was fixed and its dome switched with Brads bikes' e which was intact. The pick-up was to take the state highway while the riders would continue on the National highway. Since the roads were bad, I offered to sit in the back but Brad insisted that he would rough it out instead.
After a long punishment of a pot holed road and a brief encounter with a friendly neighborhood police man alias pauper asking for chai paani and short of poisoning him I parted with a tenner, We reached the hotel at Dharwad to be greeted by Lovely Jani, followed by our Chai pilau Don Amol, Praveen and the tribal king Nikhil. It was nice to see them again after the Kutch ride.
What did I say about lazy charms of an old love eh! I wasn't talking about girls! But more on that later…
The damaged bike was unloaded and dinner arrangements were made in a shady bar n restaurant nearby. Brad raised a toast to 60ph brotherhood and lazy us followed it up with Rum n food. Two new faces were on display alias Subash and Kanjilal who had ridden all the way from Chennai.
I just wanted to sleep but the day wasn't over yet ! I wanted my jacket back which Dipsy had borrowed on his way back from Yellapur riding Titli. The child made a wild guess. "Someone amongst us must have taken it back to the room don't worry". A feeling of loss settled over me. With even the waiters staying blank eyed to queries, my spirits sank with all leftover hope of finding it dashed. All rooms were searched without success. Just when poor me, feeling very low at the loss, was giving up hope, Lovely Jani wanted to check at the bar one last time. We made the Lodge guy to open the door of the hotel and headed towards the Bar. Behind the shutters, a party was on, the waiters talking and laughing as if celebrating something. Just as we raised a fist to knock, the shutter was rolled up from inside one of them emerged with a polythene bag under his arm pit.
Lovely Jani was the first to react ..Vishu it is your jacket right! I had full faith in his prediction and without pausing to think just pounced and grabbed it off the waiter. In the excitement of having it back I forgot to thrash the waiter. Given the mood all were in none of us flexed our muscles at all. There was no point as we got what we wanted. Back at the hotel, a sneak preview of Lovely Jani's "Riding Solo To The Top Of The World" documentary, I closed eyes to the longest ride day after what I started with had all happened - ride , a rescue, a breakdown , a loss and a reunion with creativity thrown in as the nightcap…zzzzz
Next...
A tarpaulin sheet was spread where we all lay back to stare at the stars At 12 , we wished to each other a happy anniversary.