Day 2: Yana - The Lazy Charms of an Old Love
The second day dawned with the old love kicking up a churn in my tummy. Yana was beckoning but Yana was not yet the destination. En-route we were to flirt with Syntheri rocks and a night in a camp at Anshi Forest. I wasn't to know then when the day dawned, but the anniversary night would be spent staring at stars in a clear sky in the middle of dense Anshi forest, far away from the camp where we were supposed to be …listening to Riding Solo playing in the background on my mobile dead in the middle of a lonely night. As I said when I started this write-up, it is the unexpected collaborative drama which makes riding with 60kph worth writing and worth its weight in gold where memories are concerned. So here goes day 2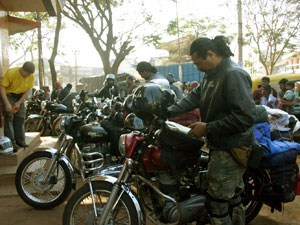 We woke up in a lodge. The old building with basic facilities and without a compound, close to the road leading to the bus stand of Dharwad was overrun by 60kphers inside and eager onlookers outside. I thought about the friendly villagers' en-route to Kutch, and on many places during my K2K ...people (read bikers) on the move without any apparent reason raise curiosity of even the laziest of town folk.
Brad was to travel pillion with Biju and I got Heather ;). But she dint have a place to plonk! My rear mudguard was split wide open! Needless to add that the origin of this fault line lay in the weight of the 100+ Kgs Wildchild who rode pillion the night before!
Dharwad was sleeping at 8.30 am. This sleepy hamlet doesn't really get going anywhere till 10 am (if it did go anywhere i.e.). Luckily, a welding shop, next to the hotel dint have an iron shutter so its sleeping owners were easy prey and were woken up to do the repairs – a patchwork enough to last for a few days. In any case I was not worried even if it dint last because riding in a group …especially one like this one… no problem was any problem :)
Breakfast was arranged by Dips in a nearby hotel and justice was done to the idlis and vadas. One of the veriiiiiiii curious onlookers dared to talk to me when I started my Kannada in the local slang. He was soon quietened with the traditional honking marking the start of the ride.
The old love was visiting again - 3 days of fun, camaraderie, adventure was beckoning – and excited about living the kind of life we all wish would last for 365 days 24 by 7, we shot out of city limits, riding down the country roads in no time.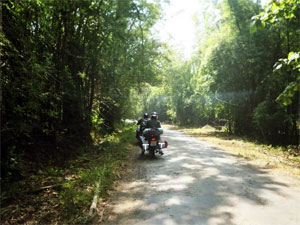 Humming John Denver as I rode, I was reminded of village roads enroute to Kutch. Gaurav and Pravo were tailing while, Amol and Dips were leading. Just for your information, this was my first ride with a pillion. ..that too with a pillion who was not used to Indian traffic or bumpy roads and plus carrying the burden of shock of an accident from the day before. I drove slow and steady on the pot holed road as I dint want one more broken stay you see :) ...
To my advantage the traffic was very sparse and we were going as a pack with Nikhil and Amol starting their antics - Nikhil periodically had sudden rushes of adrenalin and go parallel with Amol and gossip about something and then he would fall back again.
After some hard riding we hit the national highway till the deviation towards Dandeli. The jungle around was getting denser. The road was now completely shadowed by surrounding trees. It was cool and it was a quite a different kind of fun. We crossed the famous Dandeli paper mill and were soon with the rest of the gang waiting ahead , and all of us stopped for some shopping - water, snacks and most importantly onion and chilies for our Kanda mirchi seth. Our booking was done at the Anshi jungle camp. We were not sure about the availability of food and water.
Sanju and Dips went in search of forest office to book and pay the money for the pre-yana fence sitters who had joined in at the last minute. Gossips, motography and phone calls later everyone joined and headed towards Syntheri rocks, a famous picnic spot …just a small detour on the way to the camp. I was leading now and we were riding along the narrow roads surrounded by thick forest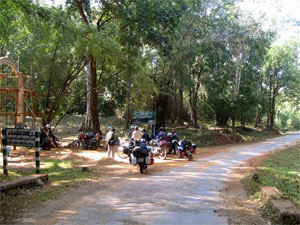 Stopping for directions at some strategic points , we reached the arch which people were referring to while giving directions.
Notices were up everywhere warning riders against alighting from the vehicles if animals were spotted. I was on the lookout for animals but the only wild thing I could see was our own "child" . Did spot some colorful Jungle fowls and few colorful birds which made for pleasant viewing but I don't have any recorded pictures to show. After sometime, we were at the deviation which took us to Syntheri rocks. We waited for others to join us and the track which were supposed to take reminded me of Dirt Track productions . Chief Jani's artistic wave hit Biju - he made us all wait while he positioned his camera to take snaps of the pack riding through it. Maybe trying to impress Jani to take him as his assistant for the next documentary! Soon the track came to life with the bulls roaring. The 3km something dirt track was easy to ride and I was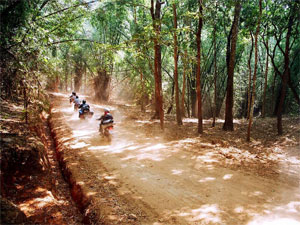 a bit extra careful not to give my pillion any shock. It was good to ride as it had some loose soil throughout the entire stretch. The light rays coming from the leaves mixed with the red dust added a unique colour to the flora and fauna and an entirely ethereal beauty to the entire stretch.
Passing this through we reached the parking lot of the picnic spot but the way ahead was blocked by big boulders. I spotted a gap where I sneaked Titli in . A steep decent followed by an open space with concrete park benches placed in a circle greeted me. The gang followed suit. The gentle sound of a stream flowing nearby and banter of a group of college kids were having fun nearby formed the background music. The kids banter stopped quite suddenly as they turned shocked to see numerous bulls of different state registrations. We all decided that,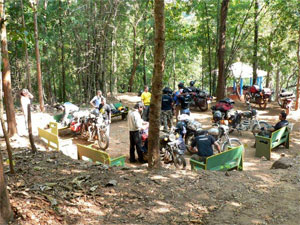 yeah this was the ideal place for a picnic. Out came the stoves, plates, utensils and few MTR food packets.
The community kitchen was setup with Sanju, Subash and Dips taking lead to heat the packed Dhal and rice. Our Mirchi Kaanda Seth was busy cutting Mirchi and Kaanda. A cigar was lit and everybody was puffing at it in turns. The cameras were out, Nikhil had started his leg pulling routine, I was just hungry as others were - given by the sped at which food plates started getting licked clean such that none needed washing. But then washing was interesting after licking ;) so few of us walked down the stairs of which there were quite a few.
Rock formations which this place was pretty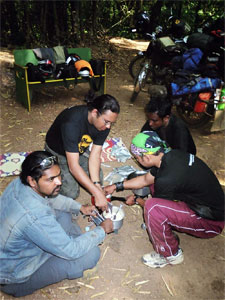 famous for, dominated both sides of the stream. Like those movies we see where the hero heroine meet at the stream to wash themselves (or other things/parts / stuff), we all (heroes) selected our places to wash.just bartan . It seemed Subhash couldn't stand the domestic scene and rushed back only to return shortly with a camera.
Kanjilal chose to supervise the maids. Aditi decided to model for Pravo and I decided to click some candid camera shots. She was kicked to get herself clicked. A few pics later, I started the uphill climb and by the time I reached, I was gasping for breath. I need to build up stamina for sure.. Rest of them decided to explore the syntheri rocks through their view finder from a safe distance. Nikhil decided to go for a solo ride with a message that he would be waiting for all of us at the next intersection.
After a while, we rolled too …after a while…on the dirt track to the main road which led to the Anshi jungle camp. Nikhil was waiting at the intersection as promised armed with directions to the camp from a forest officer. I'm not sure why but I wanted to do my own investigations on directions so went for a lookout for someone who knew the area and one could ask for directions. No human soul apart from us was in sight!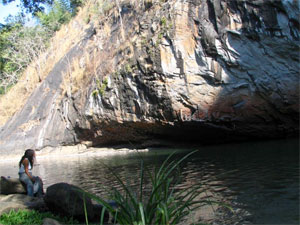 After a long while a rider atop a Hero Honda was seen coming from the opposite direction. I waved to him to stop. His hold on his bike trembled and it was clear he had no intention to stop for an all black rider dressed in red trousers (Titli is black, my helmet is black and my trouser was red) in the middle of nowhere. Immediate action was needed so I rode dangerously close to him and literally forced him to slow down. He looked shocked as if expecting to be mauled by the guys on bikes and ready to say – take my wallet , I've nothing else…the relief was writ large on his face when I asked him for just directions…He breathed lightly and assured me that we were on the right track. His courage dint hold for long though and the moment I nodded a thanks ..he scooted off like Mickey who had tom on his tail.
We followed his confirmed trail and soon were on the main road. Now there was a choice. not many. - .just two …take a right or a left..:-) and we were non committal! There was no milestone, no sign, no arrow, no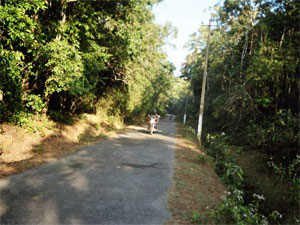 boards ..wow...so I decided to take a left and asked the rest to wait for me, Sanju followed me as we rode left looking for signs of reassurance or human factor …none was to be seen anywhere until an old Landrover came in the opposite direction. This guys hands also played nervously on his steering and was surely all set to zoom past so I had to track close to him and force him to stop. It was a gentleman with lots of camping gear and cute looking kids. He confirmed that Anshi was in the direction where he was headed (and not we.. so the right direction to have taken was a right from where we took a left) . So we did a U turn thanking and overtaking him to reach the rest of the gang.
Anshi Jungle camp was about 20kms from that place and everybody was in a hurry to reach now. It was around 5 Pm and there was still some riding left for the day. We overtook the Landrover which was headed in the same direction as we were. Some turnings had gravel along the curve and I was extra careful not to take steep turns. As I was speeding, I crossed Nikhil who was parked right in front of a gate. I stopped my bike and saw the board on top of the gate which said Anshi Jungle camp. I would have almost missed it if it hadn't been for Nikhil standing there! ..just the way I had missed taking Nikhil's word for the directions!
But nothing lost and some more faith in fellow riders found.. .I guess. That's the charm about riding , you learn new things about yourself and develop new faith in companions in strange turns and strange places.
Others joined followed by the Landrover guy who stopped and was curious to know what we were upto. An enlightening discourse about the 60kph philosophy and about our anniversary plans, he looked as if he might have joined us but as he did not have a booking, he flirted with us to join him to camp next to the river Kali. Just to make us jealous I think, he was ranting and raving about the place and trying to convince us to spend the night with him ..an offer which I was tempted to follow to at least check out the place but did not follow through on the feeling. I also felt he needed company for the night and seeing our numbers he was calculating how much safer it would be to camp with us! We all rode into the camp and could spot the tents which were to be our abodes for the night. Again it looked like 60kph had taken over the place, the caretakers confirmed our bookings, took the days food orders and gave us other options of eating. Dinner and next day breakfast would be cooked by them if we ordered it. Also, they were ready to cook chicken if we bought it from the nearest town which was about 25 Kms away.
It was decided to order Dinner and next day's breakfast. Biju, Sanju and me were to share a tent and we took our bikes to unload and also to freshen up. By the time we came, tea was ready and we decided to go for another Jungle ride ….yeah we were rushing to reach Anshi… but now that we had, we wanted to ride again ! The immediate provocation was that we could buy chicken from the nearby town and also make phone calls. Heather was tired and had decided to stay back . Kanjilal wanted to amuse Heather so he decided to stay back as well.. Brad was curious about chicken buying in godforsaken town so he came along with us. The main caretaker Narayan was the guide and he insisted on sitting behind me as he was not comfortable speaking in Hindi with the rest of the gang…it was pillion time again L …what can I say …just this – Heather…, after you…Narayan is a bit heavy :o)
I led the pack. Narayan was another chatter box – dropped shockers like " I saw a blank panther on this very track the other day "hmmmm…I nodded and rode to his background chatter for another few kms, till he indicated we take a left and wait for those left behind. The others caught up and Amol and dips were found missing! Aditi who had been recently shifted a while back from Dips to Pravo's bike said that Wild Child had blown his tappet cover and along with Amol had gone back to Anshi towing his bike. Gaurav who was awaiting word from Histasp decided to continue ahead in search of a mobile network to find out whereabouts of Histu as they were supposed to have reached Dandeli by now.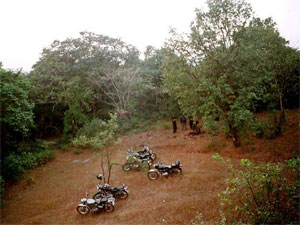 The rest of us entered the forest …the dirt track, boulders, inclined surfaces was what it was made off …3- 4 kms on that stretch and soon we stopped to search for Bison's but found only their fresh dung. The other animal I saw was lots of noisy langoors who began to screech at seeing their to be sons on bikes hehe. After some time we headed back towards the main road and met with Praveen and Amol with Dips. Back together, the gang started riding towards town to buy chicken.
Subash, me and Narayan went in search of a chicken shop, shopped and rode back to Anshi in low visibility.. surprisingly I was able to see less and less…hmm so okay I was all but night blind but my eye sight was really getting bad despite me wearing specs!.. Biju saw my condition and started leading… Sanju was behind me to save me from any mishap :) …and we all reached the camp. Everybody else was at their respective abodes (read tents) , Me and Biju and Sanju proceed to our abode to rest and change …
A strange sight greeted me at my tent. My specs were poised daintily on the cupboard! HUH! I checked my eyes to find I was wearing Biju's sun glasses all this while! No wonder I was near blind! ..I need a stamina boost, a brain boost BEFORE I think of getting a eye sight boost!
The venue of the party was a fancy place…a dining hall supported by pillars and a roof where we started our sham-e-mehfil.. Dipsy, Praveen and Aditi were having a small gathering around a campfire, caretakers were busy cooking and we joined them with our booze stock. The food wasn't yet ready and suddenly we were in the mood for another ride! It was 11 pm or something but we left dinner to go back out of Anshi camp…, Brad, Heather, Kanjilal decided to have dinner and stay back and while we all started riding on the dirt track again in pitch dark and turned back after some point by the sheer feel of being trampled by Bison's. In no mood to go back to the camp, an open space was taken, a tarpaulin sheet was spread where we all lay back to stare at the stars in the quiet cloudless sky. I felt the need for some music. Decided to play Riding solo background score to everybody's listening with rapt attention… At 12, we wished to each other a happy anniversary. We knew we had and should head back to the camp but none of us were willing to put paid to the thought… then somebody did and somebody followed. It isn't easy to leave such a scene behind (if you can ever leave it) , but we did reach the camp.
The last year's ride was to reach the middle of barren desert to spend the anniversary.
This year's ride was to reach a green jungle to spend the same event.
Last year we guffawed to Sobby's jokes .
This year we lay quietly listening to Riding Solo on my phone.
As I said earlier, a ride is not about a ride alone….not anymore ie. Like relationships, roads and life, rides too move on …each taking a character of its own …such that no two can be compared…each is unique ..and each is simply nothing without the experiences.
As I said when I stared this - Riding is about people and places, about fuck ups and feelings which makes memories and memoirs.
Next...
it was like a mad max rush so that we could reach Yana well before dark and pitch our tents. It was battle with darkness creeping up and the sun setting behind us.

^Top