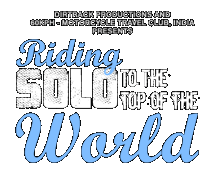 A travelogue by 60kph, in association with Dirt Track Productions, goes to the Mumbai International Film Festival and comes back with the most coveted awards!
National Critics Award
The National Critics Jury Award to RIDING SOLO TO THE TOP OF THE WORLD for its judicious mix of adventure and ethnographic detail.

Golden Conch for Best Documentary Film / Video
With "Riding Solo…" a new form (of film making) emerges which should encourage young filmmakers to explore the world around them. A road movie, which transforms a trekking adventure into a poem, revealing the mysteries of a gentle mindscape.
Riding Solo To The Top Of The World is the unique experience of a lonesome traveller, who rides his motorcycle all the way from Mumbai to one of the remotest places in the World, the Changthang Plateau, in Ladakh, bordering China.
Situated at an average altitude of 15,000 feet, Changthang covers almost 30,000 square kilometers of Ladakh. A land devoid of roads and with temperatures that dip to minus 40 degree Celsius in winter.
As a one-man film unit, he astonishes you, filming the landscape he passes by and the people he interacts with, capturing moments of beauty, pain, love, hardship, self doubt and spiritual triumphs.
As a city slicker, his interaction with the nomads of the region, the Chang pas, who live at the highest altitude used by mankind in the world, teaches him a new perspective on life, as does the religious fervor he encounters.

The Hemis festival that comes once in twelve years, the Tashi Choling monastery where the Chang pas pray to the Rain God and the ever-changing life of the Chang pas, have been shot in all their splendor and festivity.
The man and his camera even beyond the realm of practicality as he films the monastery at Chemur, the very first time a camera has ever entered the said monastery.
Riding Solo to the Top of the World, in essence, is a film about a journey that begins as an adventure and ends with the man, Gaurav Jani, seeking the person within.