NEW RIDES
Deccanosoon
For the lesser mortals who cannot ride to the Himalayas this season, monsoon will bring some respite. Come August and 60kphers will explore the magic of rains and the magic of Deccan.
The Deccan Rock layers laid down 65 million years ago. A hole punched in the rocks 50,000 years ago. Rocks sculpted by humans 2,000 years ago. 60kphers ride to experience years of history and the Deccan. We visit Lonar, Pitalkhora and explore other lesser known sites.
Duration of the ride is 10 days.
Changthang
Come June-July and 60kphers will travel to the high altitude region of Ladakh. Giving the usual Khardung-la and Nubra Valley a miss, the ride will mainly explore the remote Changthang Plateau on the Indo-China Border.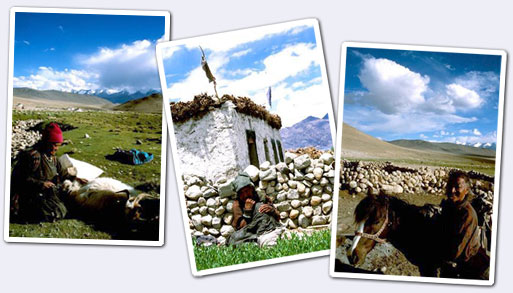 Changthang is also termed as one of the remotest places in the world, a land devoid of roads. Changthang comprises one-third of the 90,000 sq kms of Ladakh and is an extention of the Tibet plateau, now in China. Changthang is also home to the elusive Chang-pa Nomads, Chang-pas live at an altitude of 15,000 feet throughout the year in Yak wool tents. They also live at the highest altitude inhabited by mankind in the world.

The main motto behind the ride is to interact with the 5,000 Chang-pas who call 30,000 sq kms of Changthang their home.