No Man's Land



I was in the state of Arunachal Pradesh on 60kph's "One Crazy Ride". My fellow riders, Vinod, Nicky, Sanjeev and Saurabh had left for their respective homes after riding together for 40 days and I was to continue the ride towards the eastern Arunachal. But my fascination for snow had me riding towards the high altitude region of Tawang instead. Tawang is a hill station on the western edge of Arunachal Prasesh, close to the Indo-Bhutan and Indo-China Border.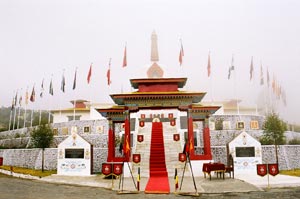 The day after I had reached Tawang, I went to the Tawang War Memorial. On an early cold and foggy morning, the Army unit stationed at Tawang was having a small ceremony at the Memorial, reason - Army officers from Udhampur in the state of Jammu and Kashmir were visiting to pay homage to the martyrs of the Indo-Sino war in the year 1962.
After witnessing the ceremony, which had an Army band, gun salute and colorful traditional Army costumes, I befriended some Army fellows to know more about the 1962 conflict. During our conversation the word "Bum-la" came-up every once in a while. On further inquiry I came to know that it was through Bum-la that Chinese army entered India and into Tawang and went on as far as till the outskirts of Tezpur in Assam. 'La' in Tibetan means a Mountain Pass; Bum-la at 15,000 feet is a high-altitude mountain pass.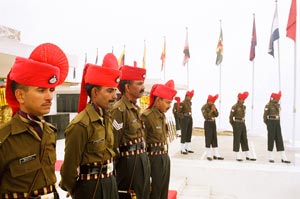 Then came a pleasant surprise that one could actually go up to Bum-la, but one needs special permits from the District administration and the Army. I rushed to District Commissioner's office to procure permits for Bum-la. Since Bum-la is very close to the Indo-Sino border, Army is very particular about taking all the details before they allow you to visit the pass. Everything was smooth until the issuing authorities asked the registration number and make of the vehicle I would drive upto Bum-la.
Nothing was wrong with my bike's registration number, but the problem was it had just two wheels, and nothing with two wheels has seen what Bum-la looks like. My application was rejected immediately, I objected of course and was shown the door to Additional District Magistrate's (ADC) cabin. ADC had the authority to forego the rule of "no two wheelers allowed at Bum-la."
The moment a biker or traveler is told not to go to a certain place, his/her schema automatically makes the place a must visit. More exotic and forbidden fruit has to be tasted ;-) Suddenly while walking towards ADC's office, my curiosity to see the pass turned into desperation.
I was surprised to see a familiar face inside ADC's cabin. I had met him three years back when I had first come to Tawang and then wanted an extension on my Inner Line Permits. After hearing my case, he said I better visit the pass in a taxi, as the track to the pass is not designed for two-wheelers. The track is in bad condition, is steep and on top of that the area is covered with snow. If a four wheeler cannot be balanced on the slippery snow how someone can ride a bike there? This did it for me; now I had to ride to Bum-la and experience the ride myself to see if it was possible or not. I reminded the ADC about our last meeting and also about more remoter and steeper passes I had ridden to in Ladakh. But, it turned out that he had served for few years in the Nyoma Sub Division of Ladakh and was aware of all the passes I was talking about.
His next move was, even if you negotiate the climb, how will you negotiate the slippery snow? Frankly I had no answer because I have not ridden on snow before; I have on patches of 10-50 feet, but not on snow for kilometers. At this time, if I recall correctly, I was apprehensive too but nevertheless wanted the permits so that I could at least ride to a point closest to Bum-la after all the drama. But government rules are simple, it's all or nothing. The ADC refused to give me permits on the grounds that if anything happens to me enroute Bum-la he would be held responsible for it. Press and Media reporting on an accident in a state which is desperately trying to woo tourists is the last thing they wanted especially when the state sponsored tourism festival was just round the corner. I stood my ground and requested him to tell me a way I could get permits to ride my bike to Bum- la. He raised his hands by saying even a motorcycle expedition by the Indian Army Officers didn't go to Bum-la so how would I get a permit? He suggested me to get permissions from the Indian Army, if they agree and accept to take all the responsibility, he would issue the permit to me.
The brigade headquarters near the Tawang War Memorial is open to civilians only after 5 pm. I met a Captain whose answer was "Indian Army doesn't issue permits; we will just cross check your identity once you get permits. Only after meeting the permit holder personally the Brigade Headquarters will endorse the permit and without the endorsement. There is no other way one can cross the several Army check posts enroute". I repeatedly told the captain about my rides in the past, finally he said after cross-checking with the commander that the Army would not recommend my case to DC for the permits but will endorse it only after the DC office issues me one.
The verbal confirmation was enough for DC to give permits to ride to Bum-la on my motorcycle and subsequently it was endorsed by the brigade HQ in the evening.
Few more facts I gathered while shuttling between the two offices: Bum-la is the pass from where Dalai Lama entered India escaping from Tibet and the Chinese Army. He was wearing Army fatigues as a camouflage. He stayed at the Tawang Monastery (which is incidentally the birthplace of the 6th Dalai Lama) for four days before going to Bomdila. The road to Bum-la is also a historical route, since it is from here that the Chinese marched into India and were at Tawang the next day. In fact, some portion of the road was made by the then Chinese Army for vehicular traffic. Marks and holes from bullets from the 1962 war could still be seen enroute. India had lost 4,000 of her men while China lost 3,000.
Bum-la is just 35 kms from Tawang. I had to cross the last TCP, 8 Kms from the pass before 1 PM, entry for civilian traffic after that time is strictly prohibited.
My personal facts are that I had ridden and pushed the bike to Mersimek-la highest motorable pass in the world which is tough but my toughest pass was Salsa -la, a rather little known pass in Ladakh. I have hypo thyroid, which means I will feel cold more than a normal person, but for some strange reason I enjoy cold and especially snow.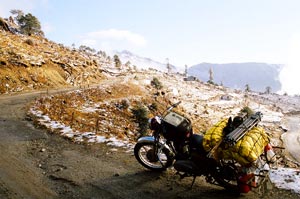 So, when I started the next day, 19th Nov, I was pretty sure that if it was only incline, I would overcome it, because like any hardcore 60kpher, I don't like turning back from a route. Tawang at 10,000 feet is a cold place to be in November, morning temperature when started was 5 degrees, but with all the excitement, cold didn't bother me much. One has to ride up north from Tawang for bum-la on the P.T. Tso route; the road climbs up immediately giving you bird's eye view of Tawang but sadly one can't stop and click pictures due to various army camps and ammunition depot. Just 7 Kms into the ride, the altitude increased drastically, the temperature dipped and I was in the middle of a snow-clad landscape. Luckily for me the snow was not on the road and as I made my way upto P.T Tso, the more whiter the landscape around me became.
P.T. Tso is 17 Kms. from Tawang and is at an altitude of around 13,000 feet, a must do route if one is in Tawang. P.T.Tso is also one of the places I love and for no particular reason. It is just the way the place makes me feel. I had spent a lot of time sitting at the lake on my previous three visits and fourth visit was no different. The only difference was snow and lots of it. I parked my bike mid-way and walked down to the lake for a stroll, I could feel the cold from the snow on my feet, but its all part of the fun.
Tso means Lake in Tibetan language. P.T. is derived from Pankang Thang, Pankang is a slice of wood used locally to insulate the roof of the houses. Thang is a place or plains in Tibetan. The place is called so because locals from Tawang used to give Pankang instead of money as tax to the kings of Tibet, as most of Tibet is a high altitude desert and devoid of trees, each family would keep their share of Pankang at the lake from where Tibetan Army would collect it. P.T. Tso still has the charm of an isolated place if we overlook the Army communication lines; the aura of the lake does match up with its rich history.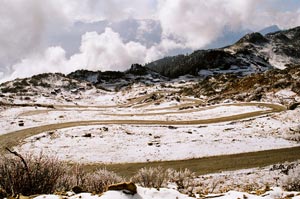 The road ascends further from P.T. Tso through lovely hair pin bends to Nagu - la a pass at an altitude of 13,568 feet, and three kilometers from P.T. Tso. One km further from Nagu la is Grdptsang Tso, another lake with rich history and myth attached to it. Guru Padmasambhava, an Indian saint who "re-introduced" Buddhism in India, especially in the Himalayan states was praying in a cave adjoining Grdptsang Tso. The myth goes that a twelve-headed serpent lived in what was Grdptsang Tso. Guru Padmasambhava, to mediate in peace, fed the serpent with so much food that he exploded. Grdptsang Tso is considered a holy lake by the locals and while visiting the holy lake they don't shout, utter bad words or dirty the place because, according to their belief, if they do so, the weather changes drastically and is accompanied by rain and snowfall. Some locals also visit the lake to see their future, usually accompanied by a lama, who first performs a holy ritual and after certain offerings are given to the lake, one can see his future in the water's reflection.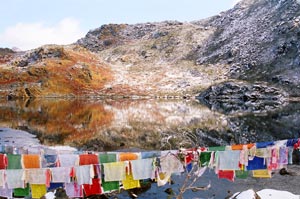 There is also a meditation hut and a Gurudwara near the lake.
From Grdptsang Tso the road breaks up into a track and after a few steep stretches comes Y-Junction, 3 Kms from the lake. It's called Y-Junction because the road intersection is in the shape of a Y. A straight from Y- Junction will take you to Sangesar Lake also known as Madhuri Lake and the small turn on the right will take you to Bum-la. A board at Y-Junction said "Celestial paradise begins here". For me it began before P.T. Tso lake and also for the fact that this time around due to sub zero temperatures, I had not encountered any tourist vehicles, where tourist would rush out from the car with the camera, go click click click, on the lake or the board and without any hesitation come up to you wearing 3 jackets, two monkey caps and two pairs of gloves and ask you what the hell you were doing on a motorcycle and go back to the car and start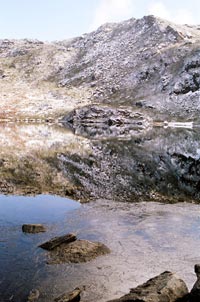 murmuring to others who in turn would stare wide-eyed at you.
I met no tourist but met NK Vijaypal Singh and his fellow army jawans who were posted in a small hut at Y-Junction at an altitude of 14,615 feet for the past one and half year. Just three men, all from Rajasthan, a desert state in western India staying at a god forsaken place cut off from the rest of the world. NK Vijaypal singh had also served as a black cat commando to a minister in central government and his posting at Y-Junction was his last posting before retirement; but his fellow mates had a long way to go; one was in middle of his service and the second one had just begun his career in the Indian Army as a 20 year old Jawan. The hardships these guys face, stationed at Y-Junction can belittle any hardships I have or anyone of us has gone through in life. Temperature at Y-Junction at 10 am was chilling zero degrees and mind you it was just the start of the winters. And these guys are not posted there just for the heck of it, the list of duties assigned to them need them to be on their toes for all 24 hours. But the best part about the Army guys or "jawan bhai", a term they like civilians to use is the warmth with which these guys greet you and host you. Be it a super sweet tea, their ration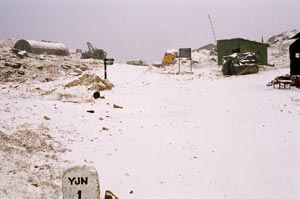 of dry fruits, super strong Army rum, or just an invitation to sit beside the fire in their hut.
I think the warmth has two origins; first, we as Indians are always welcoming guests even though if we know little about them, second, after spending months and years at desolate and extreme places we would naturally have an intrinsic desire to talk and share with somebody coming from comparatively familiar regions of the country and I am from Mumbai. But what we should realize here is that "Jai Jawan" now has just become a cliché. The soldiers are very well aware that an Indian sitting in the comforts of his concrete house doesn't even realize what an Indian Soldier has to go through before we say "Jai Jawan". Making a statement comes easy but has no weight of knowledge to it, that's what I felt. Don't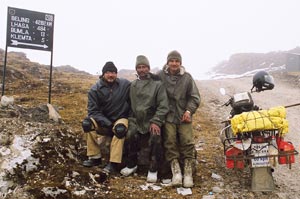 write hate mails to me if you don't agree.
I tried my best to reciprocate the warmth I got from NK Vijaypal Singh and his fellow Jawans, not as a traveler but as an Indian, by just listening to their stories and experiences, forgetting that I had to report to the last TCP before Bum-la upto 1 PM to proceed further. After a hot cup of super sweet tea and warmth of a bukhari, I bid farewell to my new found friends. Interestingly, at Y-Junction there was a board spelling out the distance to Lhasa and Beijing!
I took the small track turning right from Y-Junction and a mixed emotion of riding on a new terrain, fear of unknown, hope of reaching Bum-la and horror of failure crossed my mind. After spending 15 minutes in the hut next to the fire, I couldn't bear the cold outside, and it was not just ordinary cold, but mind freezing cold. The cold wind hitting you on the face like a thousand needles, the numbness in the hands, the stiffness in the body, you trying to squeeze your body together while riding and then realizing how stiff it becomes when you need to use hands and legs on a turn.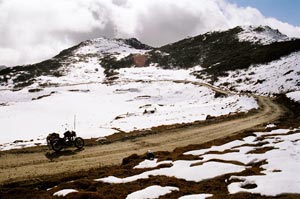 From my experience I have kind of learnt how to avoid the cold; no it's not the rum, but just by conditioning my mind that, "It's not that cold", because once you give into the cold you just start shivering, cluttering your teeth and then you just feel cold and nothing else. I stopped for a while to get over the "cold feeling" I had, and believe me guys if you kind of think that it's not that cold, the cold will go away!!! At least to an extent, all you have to do is stand upright and walk for a few meters, one does naturally crouch when it's cold, just walk and try not to think about cold. If you don't believe me ride upto a place where the temperature is minus 5 degrees, because that was the temperature when I crossed Y-Junction.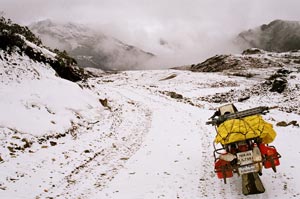 The landscape around me was snow-white, and so was the road on some patches, riding on the snow is not a problem, in fact the soft snow gives a better grip, but there were patches where underneath the snow there was a smooth layer of ice, the front tyre would skid immediately on coming in contact. The trick I learnt after a few slips, which came instinctively, was not to engage the front brake.
Soon I arrived at the last check post before Bum-la, the one I had to cross before 1 PM. Klemta, by no means was a small Army Outpost, the place had the works of a well established Army Camp, which stood in sharp contrast with the surrounding landscape. It is at the base of the third incline you have to ride to get to Bum-la. At Klemta, I was greeted by wide-eyed soldiers who walked in one by one at the check gate and had the same set of questions and suspicious looks, honestly I did feel a bit odd being interrogated and questioned with doubt by my ow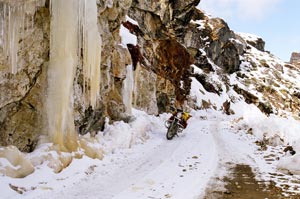 n country men. After the preliminary enquiry, the guy who operated the handset at the check gate checked my permits and called the Major at the post, though I could only listen to the operator's voice. He kept on saying, "Sir, Bombay se bike pe aaya hai, haan Bike pe, jaaney dun, haan sir bike pe hai, akela hai".
I was just 8 Kms from the elusive Bum-la and I knew that the guys at Klemta were apprehensive about letting me go ahead. I requested the operator if I could talk to the Major, I got my 2 minutes phone time with the Major and thankfully, he let me talk for those 120 seconds, in that time I conveyed to him where all I had ridden before and how badly I wanted to touch the pass and it would be better if a biker was left to decide if the bike would climb up the pass or not. Major, as expectedly told me to stay at the check gate and he would call back after talking to his superiors. Until he called back which was a minute or so, don't ask what was going in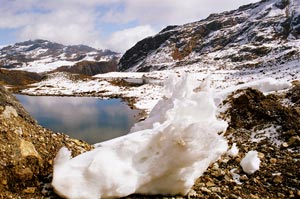 my mind: His answer to my relief was YES, GO AHEAD, but be careful, the track gets bad from here.
Major was right, the track from Klemta climbs up around a small lake and keeps on going up until one gets an aerial view of the camp, but sadly one can't take out the camera here. Actually, one can but why take pics of Army camps? The location is a paradise, I guess a romantic Army Officer must have said, let's make a camp here.
The lake near the camp has huge boulders on its right bank, if an Image of the area under snow cover is shown to anybody, immediate reaction would be "I want to live at a place like this".
The track from Y-Junction to Klemta and beyond is dotted by many lakes, all formed by the glacial melts from the snow capped mountains above. Only one lake o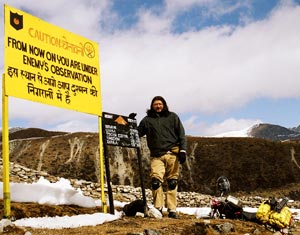 n the route had a board informing the visitor, Khemkhar Tso, a huge lake surrounded from all sides by mountains. Six kilometers from Kelmta came another surprise, another Army check post, but this one was just to record traffic movement and 20 feet from the check post a board read, "Caution: You are under enemy observation from here on" So now even Chinese were watching an Indian biker riding to Bum-la.
500 meters from this post comes a small structure on the left hand side of the road. It's the temple of Joginder Baba, Param Vir Chakra, posthumously. The temple is built to pay homage to the great soldier who fought bravely against the advancing Chinese Army with a handful of men and limited ammunition and no rations. Nobody lives at the temple, one can enter the shrine but first out of respect the footwear has to be removed. Don't worry about the cold because once you push the shrine gate open, a picture of Joginder Singh, commander of a platoon of Sikh Regiment stares right at you. It's like coming face to face with history. On the right hand side a board is placed which reads out the History of 1962 war and how Joginder Singh and his men became martyr giving the supreme sacrifice for the motherland.
| | |
| --- | --- |
| | |
On the left hand side is a glass case which has on display, the shoes, mug, bullets, motor shells, knife pouch and Sikh Holy book which Joginder Singh had on the fateful day. Apart from the personal belongings, the mortal remains (bones) of the soldier are also kept in the case. Apart from several pictures of Joginder Singh, there are posters and religious symbols belonging to all religions in India. My ride to Bum-la started with aggression;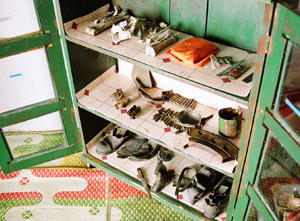 Bum-la seemed like a challenge, but at the shrine the challenge felt like a joke. One can't help but imagine the conditions in 1962. During that time Indian Army was not even equipped with proper clothing, forget about sophisticated guns. The soldiers fought with limited supply of food, braving the chilling cold. And here I was after 44 years; feeling good about riding a motorcycle to a pass, sounds silly, isn't it?
500 meters further from the temple, a small painted patch on the rock surface said "Engage 4 * 4 from here" announcing the climb for Bum-la. But I had only two wheels and out of those two only one was engageable :o))
The climb is not just a climb but "The Climb". It is as arrogant as engineering can get. What makes it even more difficult is the surface; it's not smooth but instead has lot of loose stones and boulders which are a result of heavy Army vehicles revving up before the climb; it is not possible to gain momentum before the climb, lack of oxygen makes the bike also underperform by 50-70 % One just has to get down and push the bike up. A small stream runs down beneath the stones on the incline. The snow from the pas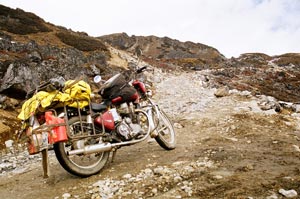 s melts and makes its way through this artificial slope and into the lakes below.
You not only pant your way up but the cold surface below after a point becomes unbearable. It's very hard to breathe at such a high altitude; you struggle to breath and after a point start removing your jacket to get rid of the suffocation. And the moment you remove the jacket the cold and strong wind strike at you, but It's better to brave the cold then to feel dazed by lack of oxygen, the deficiency blanks you out and it's not a nice feeling. I must have taken atleast six stops on that 500 meters incline. It takes the wind out of you and the cold will force the thought of returning back to Tawang.
I rested for 10 minutes and started for Bum-la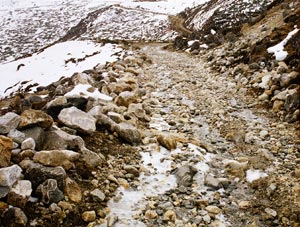 which was just 2 Kms away. After a few more turns, which were not a problem, the track opened up on a plateau, a flat table top. Snow cover was 2-3 feet here, but luckily Army had cleared snow from the track. The wind speed here was atleast 50 kph, if not more. No more inclines came for the next one and half kilometer, instead a swanky Army structure appeared on the right hand side.
I wasn't aware of Border meeting Hut at Bum-la - the place where the army personnel of both the sides meet. Such meetings are called Border Personnel Meetings (BPMs). There are only three BPM spots along the Indo-Sino border and 60kph members have already been to two other BPM's, one at Chushul in Ladakh and the other one at Nathu-la in Sikkim.
Usually, an officer of Brigadier rank leads the delegations from both the sides. The delegation comprises nine members including two interpreters. The Chinese side conducts BPMs in February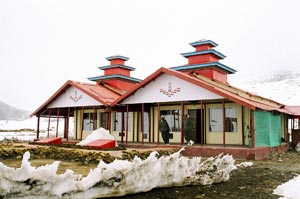 and June while the Indian side on August 15 and October 20. Out of these four meetings, two meetings are formal where agenda are discussed and remaining two are celebration meetings organised to celebrate Chinese Spring Festival and India's Independence Day.
Bum- la Hut was constructed by All Ranks of 1 Maratha LI (JANGLI PALTAN) and inaugurated by Maj. Gen. ND Jetli, VSM on 29th May 2000.
Bum-la Hut itself was a surprise, but it was nothing compared to what I saw next. I walked down on the track from Bum-la hut again to get over the "cold feeling" and 100 meters into the walk I saw a sight which I thought was a symptom of Acute Mountain Sickness. Alright that's adding drama, but during my travel years, I haven't been to a place where flags of two countries are placed 10 feet from one another and the small strip of land in between is "No Man's Land". I was as close to China one can get on the Indo-China Border. Usually "No man's Land" is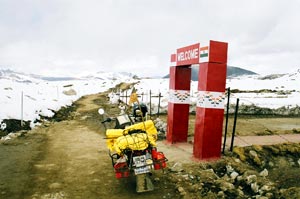 more than a kilometer wide on International Border, but with China still claiming 90,000 sq Kms of India it occupied for two months in 1962, technically speaking, I was at the Actual Line of Control on a disputed territory.
The flags are placed right at the Bum-la pass which is at an altitude of 15,000 feet. And the track doesn't stop in India, I could see the track going deep into Chinese territory, so one can ride into China from Bum-la. The milestone at Y-Junction was there for a reason after all.
The Indian Army is posted bang on the border, while there was no sign of the Chinese post for Kilometers. Bum-la overlooks the Chinese territory which also had less amount of snow. 10 feet away from the Chinese flag, there was garbage thrown around, Chinese juice cans, boxes and other 'made in China' stuff. Chinese soldiers come to Bum-la once in a while and have a picnic and leave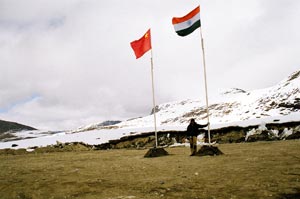 empty cans and boxes there to indirectly tell India that it is their territory. Similar practice is followed in Chushul, Ladakh.
The high point in the ride came when I walked up to the No Man's Land. I was also carrying the flags Sanju made for 60kph and "One Crazy Ride". I pitched it next to the National flags of two countries. The minus 10 degress and dense fog I encountered while returning to Tawang didn't bother me much. Standing on the Indo-China No Man's Land was the perfect climax to the whole permission drama. I was doubly high thanks also to the super strong Army rum at the pass.
Ride to Bum-la was more than just a ride, even if you take the "first" tag away, the peace and tranquility I experienced sitting at several lakes enroute, interaction with Army, the struggle at the incline and coming face to face with Joginder Singh at the shrine. You not only explore a track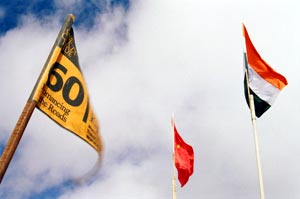 going to a high altitude pass, but explore the limits of your strength, both mental and physical and explore the myth, the history and the people of a great country we call India. A board near No Man's Land, "Welcome to India" aptly proclaims the 'high' one gets on reaching at the pass and it is very difficult for me to sum-up the feeling.
Relations with China are peaceful, but inside sources tell that China has verbally confirmed a cease fire till 2008, that is until they hosts the Olympics and popular belief is that after 2008 China will start putting pressure to regain the 90,000 sq kms of territory it is claiming in North - East India. Not only Arunachal and bit of Assam, President Mao illustrated China by using the image of the hand where palm was depicted as Tibet and the five fingers as Bhutan, Sikkim, North- East India, Ladakh and Nepal!
Quite revealing that is but when Gegong Apang, the present Chief Minister of Arunachal Pradesh applied to Chinese embassy for a visa to attend a conference in China, he was told that he didn't need a visa as he is a Chinese National!
I hope that Bum-la and other parts of India don't see another Indo-China Conflict, and I am sure you will agree to it.

Tips, if you are traveling to Bum- la:
Make sure you mention the vehicle registration number correctly at DC's office, if it is mis-spelled or you take another vehicle, the Army might not allow you to go through.


Get the permit stamped at the Brigade Major's office opposite Tawang War Memorial, the office is open to civilians after 5 PM. Without the Army stamp, you will not be allowed to ride on this inner line route.


Start early from Tawang; 7 AM is a good time, and start the return journey from Bum-la latest by 11.30 or noon, weather changes drastically at noon; clouds move in and visibility is very low, chances of snowfall are also high.


Wear ankle-high waterproof shoes, good pair of gloves, balaclava and ear protection.


Threading on the tyre should not be worn out; you'll have to ride through oodles of snow covered patches enroute Bum -la.


Acclimatize yourself to High Altitude for a couple of days in Tawang if you are riding to Bum-la on a motorcycle since you will have to push the bike to reach Bum-la.


Carry a minimum luggage; 4-5 litres of fuel is more than enough to cover the 70 kms journey.


One can hire a taxi from Tawang but the charges are exorbitant (~2,000 Rupees)


Make sure you protect the camera equipment. Exposing camera to extreme temperatures within a short span of time will result in condensation on recording heads/CCD.


If going by Taxi, do not switch-on the car heater.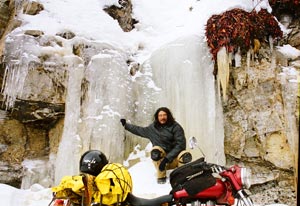 Happy Trails,
Gaurav Jani

^Top