Marsimik-La – A Record



"Saab Gypsy Bhi Jab Ruk Jaati Hai To Logon Ko Dhakka Lagana Padta Hai, Motorcycle To Nahi Jayegi, Aap Log Baaki Leh - Ladakh Ghoom Lo, Khardung-La Jaa Ke Aao, Marsimik-La Mein Kya Hai ? Waise Bhi Bahut Sensitive Post Hai Aur Jaane Ke Liye Road Bhi Nahi Hai..."
"Sir, out here even when a Maruti Gypsy stops all one can do is push – Motorcycles just cannot make it, you should enjoy traveling through the rest of Leh-Ladakh, what's there in Marsimik - La? And anyway this is a very sensitive post and does not even have a proper road up to it..."
Marsimik - La, at 18634 feet, the highest motorable (arguable in the context of the quote above) pass in the world, rocky vistas and naked glory! How could we just leave this region unexplored? More so, when we were just 22kms from it and had got the permission to ride to it from the D.C. after lots of persuasion.
Thus, on 30th June 2004, sitting at ITBP's 22nd BN Phobran post and having tea with Inspector B.P.Singh and the staff, there were so many thoughts racing in our minds. The fact that even hardy 4 wheel drive Gypsies driven by experienced drivers had a hard time climbing Marsimik-La sounded very challenging.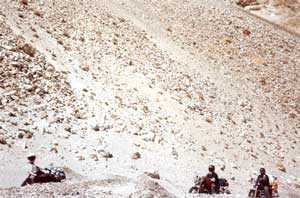 So, we decided to proceed. The team – Rahul, Anil, Parikshit, Sanjay and wife Aradhana, Gireesh, Pradeep, Dipesh and myself – members of the All India Enfield/Bullet Club 60kph, regarded by many as the best in the country. Ironically, most of the riders were not used to long distance rides – this was the first big ride for most of them. After doing numerous passes like Jalori-La (the toughest), Rohtang-La, Baralach-La, Nake-La, Lachlung-La, Tanglang-La (the most beautiful), Chang-La (the mightiest), Khardung-La (the easiest), the spirit of riding was at an all time high and the numerous stories about the merciless Marsimik-La were overwhelming.
I decided to lead and Rahul was riding drag. The very courteous Inspector B.P. Singh explained the route to us one more time and cautioned against taking the right-hand tracks since they could lead us into Chinese territory.
The ride to Marsimik-La top is a 22 kms long dirt track, gravel track, mud track, boulder track, dust track, sand track and everything in between! Sometimes when you are riding, you have to balance your body and the heavy bike against the steep climbs. And since its mostly sand, any mistake and you find yourself sliding down a good 6-7 meters. Using the front disc brake when the bike is not in an upright position would have you ending up face down. But when you are already consumed by the burning desire to make it somehow, you tend to forget these things or simply ignore them.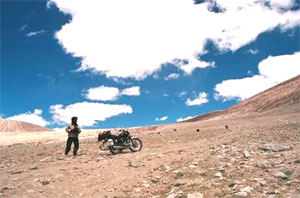 After about 12-14 kms of arduous climbing, the load on the engine was beginning to show and I decided to stop for a while and wait for the rest of the gang. After about 20 minutes of waiting, I realized that no one was coming and a fear hit me – the usual questions of a solo rider started echoing in my head – What do I want to get from this ride? What am I trying to prove? Why am I here in the first place? In the middle of this inhospitable place with scarce oxygen and zero greenery, I was getting nervous. I consider myself a good rider and after doing Jalori pass, which is again 8-9 kms of steep climbing where the bike is constantly in first or second, the confidence was high but there was apprehension as well.
I decided to move further and wait for the other riders at my next halt. But just after a few kms the bike started rattling again and I was forced to stop. I had no choice but to wait for the engine to cool down.
After about ten minutes, I spotted a moving black spot which slowly turned into Rahul and Anil. Then Pradeep also appeared and I heaved a sigh of relief. We waited for some more time and Sanjay and his wife also turned up on his black Thunderbird. After a while Gireesh also joined us and the ride started to look promising again.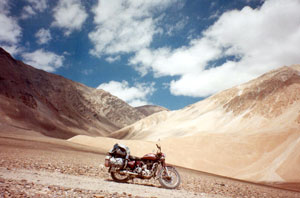 We decided to set off after letting the engines cool down. But the Thunderbirds refused to move an inch – which sparked off a huge discussion about "stupidity". All of us agreed that there was a fine line between being "crazy" and "brave". Considering our present condition, we had to admit that we were more on the crazy side.
Pradeep helped me start off by pushing my bike to give her the required momentum and I took off. Managed to do another 2 kms before the engine died again. I wanted to change the clutch plates, re-jet the carb and take off the air filter, but the situation wouldn't allow me to. I was panting for breath like an exhausted dog. Any physical activity in that place seemed to take 5 times more energy. I just managed to loosen the carb's hose and proceeded further.
With every few meters I was riding, I was learning new lessons about Marsimik-La. There were times when I found more than one dirt track – sometimes three or even four where the bigger army vehicles had made their own way. Usually when the Army Stallion trucks with their massive torque and ground clearance discover new tracks, they abandon the old ones. But for a biker, the shortcuts are really tough since they are usually very steep climbs and there are chances of getting lost – good navigation skills are called for.
Kept riding further and felt a rush of enthusiasm when I could see the second-last ITBP post. At that time my mind was made – there was no turning back. I had to make it to the top no matter what. It's really difficult to say which one was tougher – the climb or the decision to climb. I started the bike again and pushed it along to gather some momentum and jumped on. And with a loud "Jai Bholenath", I proceeded.
The bike was sounding crazy by this time and I thought she was going to blow the crank bush or have a piston seizure, but I had faith in my baby and knew her capabilities – she had never let me down and that was enough to boost my confidence to take the chances I took. Plus, the very fact that nobody had ever made it to the top on an Enfield Bullet was compelling enough for me to push on.
One turn and I saw the last ITBP post! There was only one hairpin to negotiate and that was it! A rush of adrenalin and I was there! The blood rushed back to my head and I felt a wave of relief when I saw the black stone structure that meant I had reached the top of Marsimik-La. The numbness followed – not knowing what to expect, I looked around… Nothing like the beautiful Tanglang-La – only naked mountains, rocks and stones of every size and shape, ice and deep lonely valleys… somewhat eerie.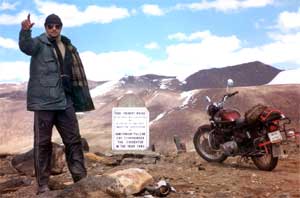 There is a marble plaque engraved with the following words –
THIS HIGHEST ROAD
IN THE WORLD WAS CONSTRUCTED
BY
B COY OF 1ST BN ITBP
UNDER THE SUPERVISION
OF
SHRI SONAL PALZOR
COY COMMANDER
THE EVERESTER
IN THE YEAR 1983
And at a distance of about 6 feet there was another big plaque of gray stone with the faded engraving –
"CHAK DE"
Marsimek-LA
WORLD'S HIGHEST MOTORABLE PASS
ALTD 5590 MTS (18634 FT)
CONST BY – 6 FD COY
236 E/R CHAK DE
"CHAK DE"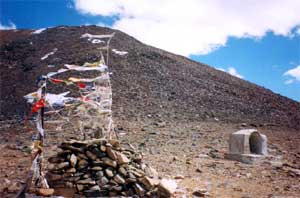 There's a small temple of Lord Shiva, the "Chak-De mandir", and next to it was a pile of rocks that served as a holder for faded prayer flags… and that's when it hit me…
I just sat there and lost control of my emotions – all I know was that I was just crying…
I looked around, trying to memorize everything in sight, tried to spot the Chinese posts but couldn't see anything besides some hut-like structures. Remembering the warning to not go any further, I decided to descend. Here another thought gripped me – climbing was tough – but what about getting down?
When I tried to take the bike off the stand she fell and it took me forever to get her back up again. All that effort had me down on the ground panting for breath again. After a while I started on the return journey. After about 1 km, I met Rahul and Anil – the amazing duo. The road was now open. I wished them luck and proceeded so that I could meet the rest of the gang. Ran into them after a while and found them anxious to get to the top, but their machines simply refused again and we decided to head back to the base camp.
This was my experience of being the first rider to reach the top of Marsimik-La – the highest motorable road – on an Enfield Bullet 500.
If I can do it, so can you – and Leh/Ladakh is a bikers delight.
Happy and Safe Riding,
Prem & The Predator.
The incline to Marsimek-La
Location: Marsimek-La

The ride to Marsimek-La top, the highest motorable road in the world is a 22 kms long dirt track, gravel track, mud track, boulder track, dust track, sand track and everything in between!


Photographer: Prem Kumar
Date: 30th June 2004
800x600 | 1024x768

Marsimek-La Top
Location: Marsimek-La
At Marsimek-La top, the highest motorable road in the world. This plaque confirms it and serves as a record of who constructed it and when.
Photographer: Prem Kumar
Date: 30th June 2004
800x600 | 1024x768