In the Vicinity of Meditating Gods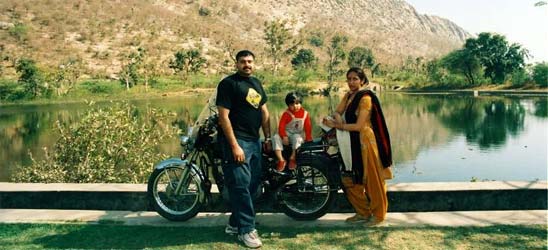 INTRODUCTION
The spring, arriving as the harbinger of the seething summers, kick-starts a frenetic activity amongst the residents of the plains for bookings and reservations at the hills. Come summers and a mad rush to the popular hill-stations ensues. If you wish to simply run away from the clamour and chaos of the city or avoid the heat and dust of the plains, any hill-station would do. But if you wish to see the pristine natural beauty, make a list of popular hill stations of the country; and then go somewhere else.
In the north, we almost always choose Uttaranchal over Himachal for our Mountain sojourns. Being in the state of Uttaranchal has always been an exhilarating experience for us. Despite its outstanding natural beauty, tourism in the state is largely limited to the famous religious shrines and stations like Nainital and Mussoorie. But, on the other hand, if you take a serious look, the state has all the ingredients for a perfect potpourri of holiday, viz. Nature, adventure, culture, heritage, pilgrimage, yoga, meditation, and wildlife. And, if you like driving/riding routes, the state offers an enviable variety.
PLANNING
We are in a habit of making our travel programs on the spur of the moment and this time also it was not different. A phone call from a friend rekindled our desire to see the Rhododendron forests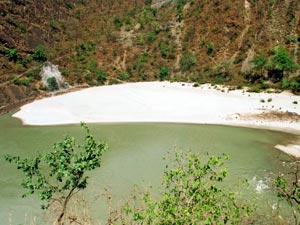 above 3000 metres. We couldn't resist the temptation and hastily arranged for the journey.
This time we chose Devariya Tal, Chopta and Tungnath circuit from the Garhwal region for our five days and four nights sojourn in lap of the Himalayas. This circuit was singled out from a corpus of more than 200 destinations that Uttaranchal offers, for, this time we had high-altitude Rhododendrons in our minds. Along with riding, it was also allowing us to justify our adventurous streak and love for the nature as the trip involved two treks, lots of nature walks and wildlife spotting. As for our individual spiritual quests, it had 'Tungnath' temple, one of the 'Panch' (5) 'Kedar' (lord Shiva) shrines, thrown in.
Embarking on a journey to the lesser known places adds a sense of excitement to the travel, but we were also mentally prepared to afford the uncertainties such trips are fraught with.
KICK-OFF
We started from Delhi at 7:00 am on a pleasant morning in the month of May. Desiring to move as much into Uttaranchal as possible, we took fewer halts but the traffic movement was very high and unruly on the single-lane National Highway 58 upto Haridwar. This hindered us to attain good speed. My sincere advice would be to leave as early as possible. 5:00 am is a good time if you wish to avoid the mess. Since we got a bit late by that standard, I rode like a maniac to avoid other maniacs, but to a little avail. The harsh afternoon Sun literally baked us. We could reach Rishikesh only after 1300 hrs.
Rishikesh onwards the hill road starts and bike engine was heating up due to extra strain to lug us uphill. Despite the hilly terrain, we had no respite from the unforgiving heat till late in the afternoon. Soothing sand on the banks of the Ganges at Biasi and Kaudiyala seemed to be seething. We rode past beautiful 'Marine Drive' which is a small stretch just along the river Ganges after Kaudiyala. Rafters generally start from here.
After around 70 km of a discomforting ride from Rishikesh, we reached a craggy canyon-carved town of Dev Prayag. Out of six 'Prayags' of the Uttaranchal state, this is the first 'Sangam' (confluence) on Kedarnath and Badrinath route, the confluence of 'Bhagirathi' and 'Alaknanda' rivers.
The Alaknanda river, along with it, brings waters of four other rivers by meeting Dhauliganga river at Vishnu Prayag, Nandakini river at Nand Prayag, Pindar river at Karna Prayag and Mandakini river at Rudra Prayag. This makes Alaknanda a major and much broader stream out of the two at Dev Prayag 'Sangam'. On the other hand, in its total course of 214 km, 'Bhagirathi' loses an average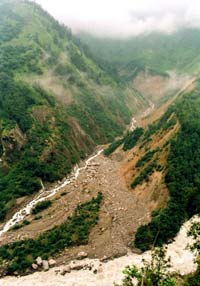 altitude of about 11 meter per kilometer from its sacred source, Gaumukh, at the base of Gangotri glacier. Thus, the Bhagirathi flows fiercely at Dev Prayag despite being a narrower stream. The pious confluence of Bhagirathi and Alaknanda at Dev Prayag forms the country's most revered river, the Ganges. The only religious confluence of the rivers (prayag) of the Uttaranchal state which does not involve Alaknanda river is the Soneprayag on Kedarnath route where Vasukiganga river merges into Mandakini river.
Unbearable heat forced us to leave Dev Prayag rather early and we touched, Srinagar at around 1800 hrs, which is another 33 km away. Heavens finally pitied us and it started drizzling by then. After getting roasted all the day we had an apt finale. 'Char Dham Trust Dharamshala', our abode for that night, is situated bang on the highway to Kedarnath and Badrinath shrines. The place was not only clean but had room options and tariff catering to lower to middle sections of the society. They don't serve food though, so we had to go to a nearby highway dhaba for dinner, something which Vandana dislikes ;~) Well, as always, she tried but couldn't find a restaurant.
Next
Next morning was chilly though the Sun was out in its full glory. We had our usual Breakfast (again in a dhaba ;~)) and moved on from Srinagar towards Rudraprayag. After 34 kilometres of riding on a wide mountain road hugging Alaknanda all the way, we reached the 'Tapobhoomi' of sage 'Narad', Rudraprayag.